Data Change Form (DCF)
You should submit a Data Change Form (DCF) if you want to:
reduce or decline your federal loans
update your enrollment or housing information
decline your work-study offer
If you don't have any changes to make, there's no need to submit the form.
Steps to Complete the DCF
1. Log in to view your Rutgers Financial Aid Offer Letter.
2. There are several links to the DCF on your Rutgers Financial Aid Offer Letter. You can find them in the student status section, the federal work study section, or the loans section. Screenshots are below.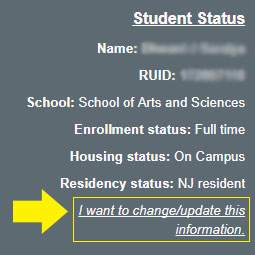 3. Complete the form, making any adjustments you need to your enrollment status, housing status, work-study, and federal loans. Read and follow all instructions on the DCF.
4. Click "Submit Changes."
After Submitting the DCF
Your document will be reviewed by a financial aid counselor and changes will be reflected on your Offer Letter. During peak processing time (between mid-August and mid-September), counselors work as quickly as possible to process and review DCFs. Do not submit the DCF more than once as this delays the process.
You will still need to pay your term bill even if the changes are not reflected – just pay the full amount you owe as if the loans were not on the bill.
Questions about charges on your bill, enrolling in a payment plan, or paying your term bill can be directed to the Office of Student Accounting, Billing, and Cashiering.